CREATIVE | VERSATILE | INDIVIDUAL
patented technology
FOTOBLECH - Catalogues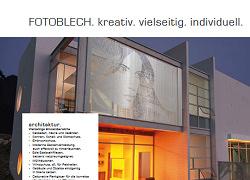 FOTOBLECH main catalogue
In this catalog you can see examples of FOTOBLECH in architecture, art and business.

Download: Catalogue

Various uses of FOTOBLECH are described as well as the most siginificant advantages of the material.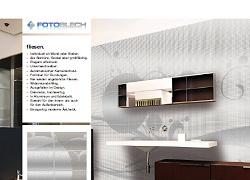 FOTOBLECH as tile
FOTOBLECH is also suitable as a tile. When do this, FOTOBLECH are glued to the wall and the holes are filled with grouting material.

Download: Tile-Flyer (German)

The filled holes can be used as a towel holder. When it will be removed again after many years, the holes will be filled again, and the tile will look completely new.
FOTOBLECH as fence
Fences and railings are typical applications of FOTOBLECH. This flyer not only shows aesthetic but also functional benefits.

Download: Fence-Flyer (German)

For fences and railings, for example, you can integrate your house number or your company logo. Additionally, you can control the view for each area exactly. Thus, for example garbage skips can be hidden.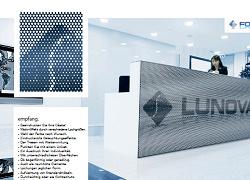 FOTOBLECH as reception area
FOTOBLECH are more effective the lighter the background is. It also offers an extremely wide effect. FOTOBLECH attached as a screen at a bar - and also with backlit - it is certainly an eye-catcher.

Download: Counter-Flyer (German)

Whether it is the reception area in an office or the foyer of a cinema: FOTOBLECH impress!