CREATIVE | VERSATILE | INDIVIDUAL
patented technology
FOTOBLECH - architecture
Our FOTOBLECH is especially suited as cladding or fence panels or as screens.
Example: FOTOBLECH as a screen in front of a window.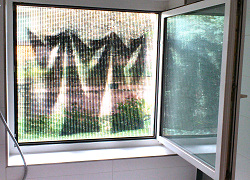 The blinds of that window here look as if someone had attached a curtain.
But that is a fake. Indeed it is a motif created with FOTOBLECH.

FOTOBLECH enables you to define dense and airy spaces exactly where needed.
The more privacy is required the closer is the perforated plate in this area.

Choosing your subject you are completely free whether simple or complex patterns representation.

We take up any image and convert it into a hole pattern. The different holes all together form the motif.
Fine structures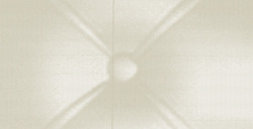 FOTOBLECH is calculated using a special (patent applied for) algorithm which makes it possible with just a few different hole diameters to produce absolutely smooth colour transitions.

Using this calculation produces colour gradients, shadows and highlights. Here is an example of an oversized upholstered detail-FOTOBLECH.
Large panels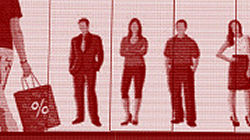 FOTOBLECHE act better the bigger they are. Individual panels can be a maximum up to 250*125 cms. Specifications to meet the customers demand can be 300*150cms.

For large surfaces the folded-at edges of plates are screwed together. Is a continuously running pattern important the panels are connected by special invisible brackets.
Variety of materials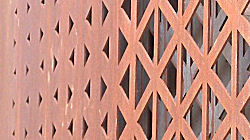 Best for punching is aluminium but we use some other metals as well. We often take stainless steel. Furthermore we punch various synthetic materials.

The aluminium parts are usually coated. Anodizing, electroplating, etc is possible, too.
More efficient punching
Due to the special conversion algorithm all images are stamped with a minimum set of punches. That enables us to punch motifs efficiently and without conversion.
Free choice of subject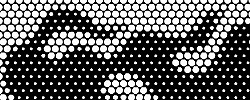 Please, send your desired design to: info18@fotoblech.at. You will get back a corresponding preview immediately. You may watch examples of patterns on our sample page.

If you need help with your design do contact us. We will help you!
Summary description of material
A completely punched hole plate with different sized holes which present your desired motif.

All holes are distributed that way that the transitions from one hole size to another happens in a gradient not visible. So shading, reflections and highlights can be shown. About 10 000 per square holes are punched. The centres of the holes remain in the ranks and each element of grid has a hole. The number of differently sized holes is limited. The punching machine can punch all parts efficiently and without conversion.

We punch in 1-3mm thick aluminium, 0.5-2mm stainless steel or other metals and plastics according any given motif. The maximum size of a single panel is 1.25*3m. In exceptional cases 1.5m in width and 3m in length is possible. Larger areas can be achieved by the juxtaposition of several plates.

The boards are attached to the substrate by folding over the edges and providing them with openings. This way they can easily be hooked into the substructure.