CREATIVE | VERSATILE | INDIVIDUAL
patented technology
FOTOBLECH - Pictures and more
FOTOBLECH is an ideal material to make impression with pictures - in the truest sense of the word ...
Portraits in Loch und Bild!
Volkshaus Keferfeld-Oed in Linz we presented luminous portraits FOTOBLECH.


Pictures of FOTOBLECH
You want your own picture from FOTOBLECH?
Send us your and we will prepare it optimally for you. A preview is out of charge!

The images are punched, folded over, sealed and coated as desired.

On the whole FOTOBLECH act better the bigger they are. We recommend at least A1 (59*82cm) better 100*70cm. You can choose the size of your panel up to 125*300cm. Bigger sizes are connected by some single panels.
... and more!
FOTOBLECHS are suitable for a wide range of artefacts such as tables, etc.
You will find ideas what can be made by FOTOBLECH in "IDEAS AND APPLICATIONS".

Whether it's furniture, privacy screen, wall lights, gate entrances, radiator covers, ornaments, sliding doors, aluminum case or bar elements now .... get inspired!
Frame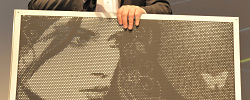 You can choose from 3 different frame types:
- Unperforated edge
- Edged border with welded corners = metal frame
- White border and background from 2mm aluminum = Passepartout (see photo)
Material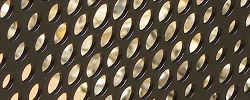 We use 1.5 mm aluminum and cut more than 10,000 different sized holes per square meter. The sheet is power coated colour. It is a pleasure for us to use different materials and surfaces if you want that.

Different from prints you get a very high quality material. You will achieve a uniqueness that you have never seen before!
Motive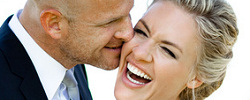 Send it to info18@fotoblech.at. Close ups are most suitable.

If you need help with the design contact us please. We can help you! Look at the category "IDEAS AND APPLICATIONS"
Order now!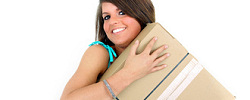 After sending us your image, you will son receive a no-obligation preview and price. With your OK your applications moves on to the punching machine and next on to power coating. The time for delivering is approximately 3 weeks. Let us know if you need your FOTOBLECH earlier. Order
NEW: Now there are beautifully designed vouchers available here.