CREATIVE | VERSATILE | INDIVIDUAL
patented technology
FOTOBLECH - facades and walls
FOTOBLECH-Tile wall: Historical picture of Linz
Tile wall. Fotobleche are also excellent to use as tiles. The smooth metal surface and rough grouting create an exciting relief and tactile experience.

Example with Rheinzink. In this project Fotoblech tiles from Rheinzink were used, the areas between the tiles filled with gray silicone and the holes with common grout.

Image, Construction site photo, Catalog page
Facade of the town hall in Meschede
After the renovation, the Meschede town hall reopened its extensive cultural operations at the end of 2018.
The facade was clad with Fotoblech, which show an abstract wave-shaped pattern with rough perforations.
With the kind permission of Henke AG.
Catalog
Ceiling and facade Neue Spinnerei (Traun, Austria)
Team M Architekten ZT GesmbH
Owner: KULTUR.PARK.TRAUN GMBH
System: Design-Planum, Domico
Material: Aluminum 2mm, powdercoated
Event center with wall and ceiling coverings of the special cassette system from Domico.

A symbolized mesh gives the facade expressive power.
22.5.2017: OÖ Nachrichten: Elegante Pracht der neuen Spinnerei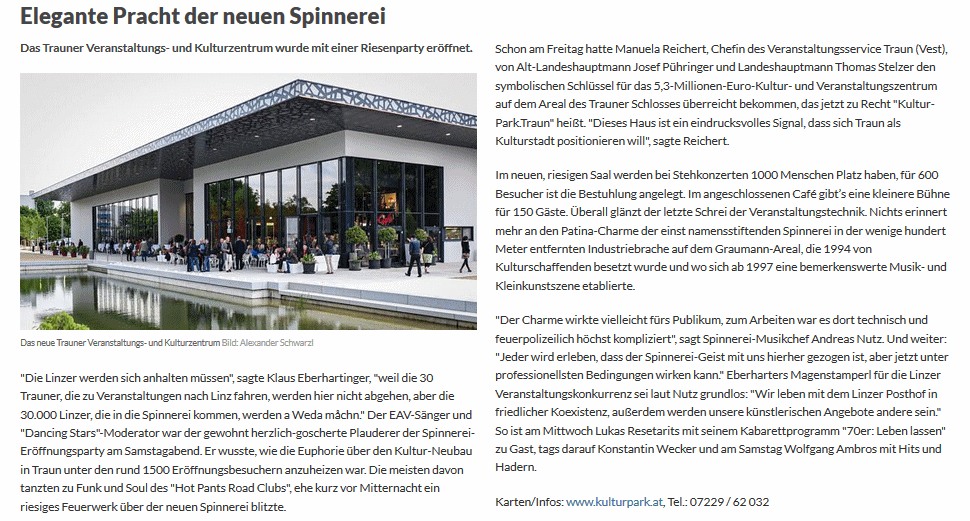 Wall covering restaurant IKO (Vienna, Austria)
ARCHITEKTFRIEDRICH ZTGMBH
Implementation: Scheiner Blechtechnik GmbH
Material: Aluminum 2mm, golden anodized
Various geometric patterns as a wall covering of the restaurant IKO in Vienna (Wipplingerstraße 6 - near Stephansplatz)

Inspiration for our pattern generator "IKO", see Pattern catalog or Pattern page
Facade pattern of the Penkenbahn (Mayrhofen, Austria)
Architect: Helmut Reitter
Implementation: V-MET GmbH
Material: Aluminum powdercoated
The valley station of the new Penkenbahn in Tyrol was lined with Fotoblech. A very high hole density results in a filigree pattern.
Interesting light effects also result from the inside. The interior of the building is protected without losing the sense of what is going on outside.
Google StreetView
Wall covering (Frankfurt, Germany)
Implementation: Göppel Metallbau
Material: 2mm Corten steel
A backlit wall covering: Marriott in Frankfurt.

Prepatinated corten steel sheets were folded cassette-shaped.

The rough surface in combination with the backlighting give a warm climate.
Facade (Cologne, Germany)
Implementation: Stahlbau Glasbau Metallbau Menz
Material: 2mm powder-coated aluminum
A facade of folded Fotoblech with very small holes (2-5mm diameter) and unperforated sections.
Incl. integrated entrance door and a multi-unit roller door.

The pattern repeats cascade over the surface. Dividing lines in the pattern make the transitions between the sheets "invisible".
Exhibition walls (Vienna, Austria)
Architect: Bettina Bigler, planstelle
Pictures: Stefan Fuhrer, Fuhrer Visuelle Gestaltung og
Material: 2 und 2.5mm aluminum uncoated
Exhibition walls for the new exhibition "Oil & Natural Gas" of Technisches Museum Wien.

On large, self-supporting panels motifs of the exhibition are shown. The sheets were folded and reinforced with a frame made of aluminum.
Facade (Passau, Germany)
Architect: Erwin Wenzl, Wenzel-Architekten
Material: 2mm Cortenstahl
FOTOBLECH / glass - facade in Passau, Bräugasse 14

A perspective pillars and arches - pattern.
The FOTOBLECH are designed as double-shell wall, with triangular openings. Depending on the visual angle thus make very different visual effects.
Photos (2 MB)
7.11.2017: EWA: materiell immateriell
Facade (Leipzig, Germany)
Facade of a REWE store in Leipzig.

A figural representation with dark background. Some parts are not perforated. Here you can see a photo realistic effect from a short view distance.